Better Business Intelligence: Bringing Data-Driven Insights to Everyone with IBM Cognos Analytics 11
November 23, 2021 | DARYA DROBOVA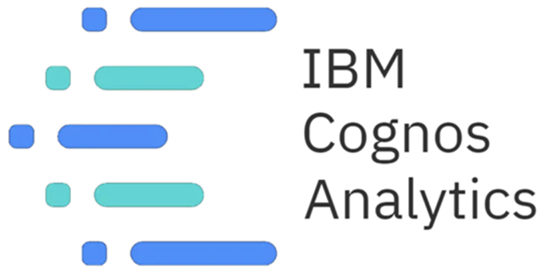 Business intelligence is more than a passing buzzword.
It's become the key driver of value for nearly every company on the planet — and maximizing insight from data has become the key competitive advantage for every company that cracks the code of BI.
And in this article, we will help you do just that. To do so, we will explore:
Why business intelligence has become so important to so many companies
How IBM Cognos Analytics 11 provides a better solution for modern analytics projects
How we helped one of our clients replace their legacy analytics application with Cognos, and the benefits they gained when they made the switch.
The Challenge: Business Intelligence is Growing in Size, Importance, and Complexity
Business Intelligence (BI) is everywhere you look.
Every company in every industry — from finance, to education, to retail — now uses data to drive their most important business decisions. Every function in the corporate structure — from production and sales to HR and marketing — are using data to make big decisions. And most employees now analyze reports and tables as part of their day-to-day work.
At the same time, BI tools continue to become easier and more affordable. They are becoming self-service, they are become zero-infrastructure cloud-based systems, and they are adopting budget-friendly transparent licensing.
And these BI trends are snowballing. When it comes to BI technology, the more users a system has the deeper analysis they can perform. After all, every BI user collects a lot of data for themselves. If a company has hundreds or thousands of BI users, then they have hundreds or thousands of people collecting critical business data and replenishing the corporate repository with updated information — all of which makes it valuable to weave end-to-end analytics throughout an entire company.
In sum: Companies no longer ask, "Is BI necessary?". They now ask, "How can we best use our available data to deploy BI with maximum effect?"
Unfortunately, this question is not always easy to answer. The amount of data being used in BI is increasing exponentially. The number of decisions being driven by BI is growing every day. And most BI users are now non-technical roles that are less comfortable with data columns and charts, and instead need advanced visualizations to better understand their data and what's going on in their business.
To continue to deliver value, BI needs to be simplified, centralized, and visualized to make it more accessible to more users. And a new solution from IBM was designed to do just that.
The Solution: Meet IBM Cognos Analytics 11
IBM Cognos Analytics 11 gives you a better way to manage your data and your business. It is a full-featured BI and corporate reporting solution that gives you a fast, unified home for all of your critical business data, and makes it easy to answer key questions like "What's happening now?", "Why is it happening?" and "What must we do to correct the course and save this situation?".
To do so, Cognos consolidates data from many sources into a single platform, eliminating bottlenecks and time wasted processing incoming data. Cognos makes it easy to integrate a wide range of external data with internal user data, helping users perform comprehensive data analysis and produce confident business decisions.
Cognos then combines this centralized data collection with a suite of tools that gather evidence, perform analysis, and drive meaningful decisions to achieve business goals. These tools include:
Dashboards
Reporting
Analytics
Planning and Budgeting
Interaction Functions
Multidimensional Analysis
IBM Cognos Analytics 11 is an upgrade of IBM Cognos BI. Specifically, IBM has redesigned and significantly improved Cognos' user interface. Cognos now gives users a highly functional experience with quick and easy access to every key feature — for example, users can now generate reports, dashboards, and data visualizations in just one click.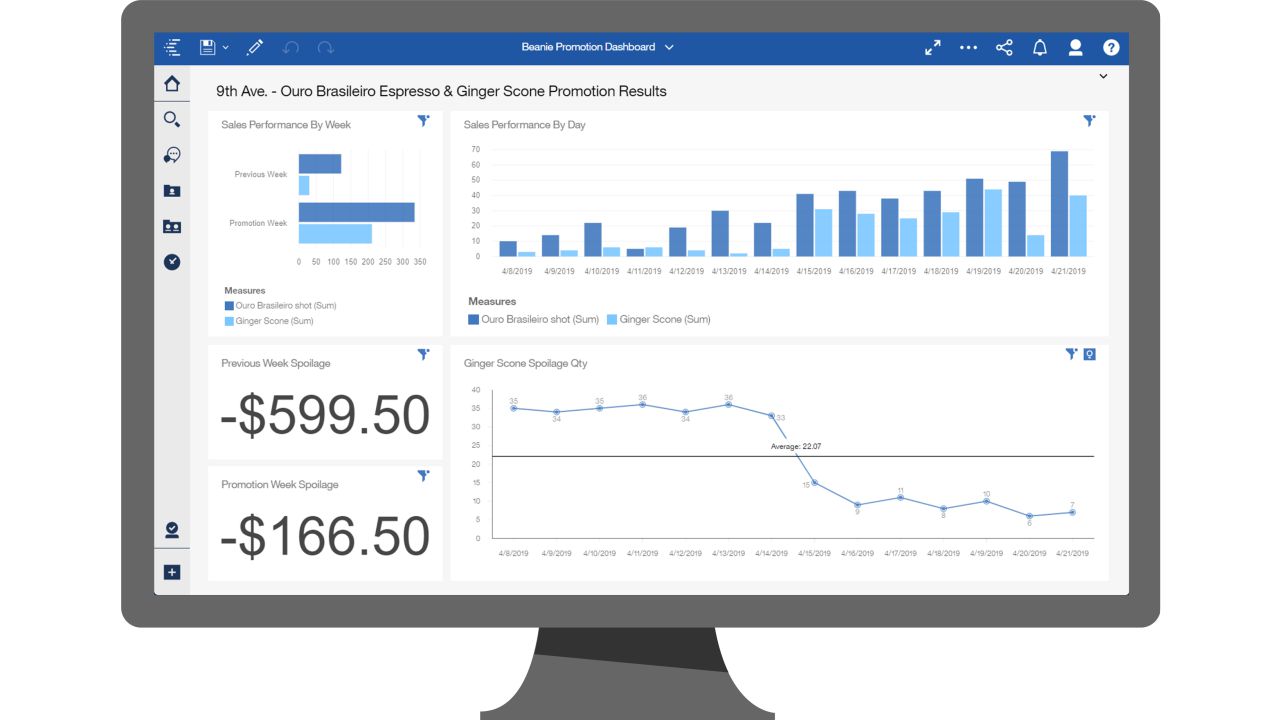 In addition, Cognos now offers a suite of technical features that make data analytics even more streamlined and flexible. These include:
Operational Monitoring. Cognos lets you create custom dashboards based on your unique, critical data, in order to easily evaluate your current business context and monitor your ever-changing business conditions.
Business Process Management. Cognos provides a single, unified workspace for multiple users and roles, and offers a full set of BI functions to monitor, manage, and analyze business processes against a balanced scorecard.
"Access Anywhere" Interfaces. Cognos can be accessed through both a traditional on-premise instance and through a wide range of modern interfaces and devices (IBM Cognos Analytics Mobile) — including mobile devices and a cloud application.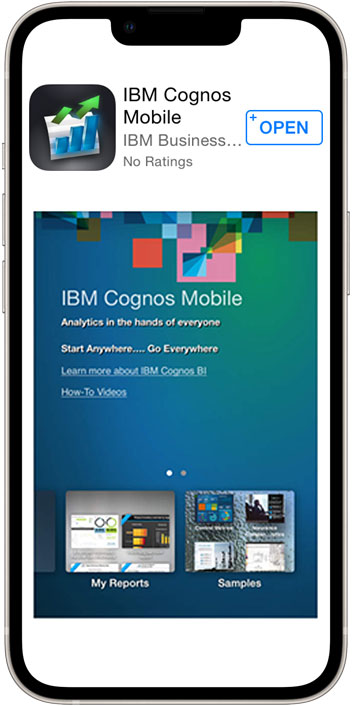 However, while Cognos has become even more accessible and user friendly, it can still be a challenge to derive, expand, and maximize its value — especially across enterprise-wide deployments with hundreds or thousands of users.
Next, let's look at a real-world case study that explores what it takes to make the best use of Cognos and the data it collects, and how we helped our client optimize their investment in this BI solution.
Cognos in Action: A Real-World Case Study
Recently, we worked with an enterprise-scale client to replace their existing BI solution and to drive their Cognos implementation. In this section, we'll break down:
Why their existing BI solution wasn't working
How we helped them implement Cognos and maximize its value
The benefits and outcomes they gained working with Cognos and IBA.
Let's get started.
Their First "BI" Approach: Plain Tables in an SQL Web Application
Before our client contacted us, they did not use a true BI solution. Instead, they had developed their own web application on pure SQL. They stored all of their reports on this application as plain text tables or crosstabs with filters. While this application had some basic functionality, our client's users found it insufficient for a few key reasons:
It was too plain and static. It had an unattractive design, it provided a limited set of visualizations, and it could not build advanced diagrams. Overall, users wanted to run reports that were more flexible, functional, and visually modern
It lacked easy access rights. It did not offer a simple way to define who could or could not access different data. Users had to spend a lot of time manually creating additional conditions to restrict user access to reports and instances
It was hard to add functionality. It was not easily extensible. They needed to find an external application every time a user wanted a new function, such as running new reports, applying new filters, or even just showing graphs
It was inaccessible to developers. It was developed by one person who did all of the work. He could not handle all tasks and requests himself, but he would not give access to anyone else on the development team to help out.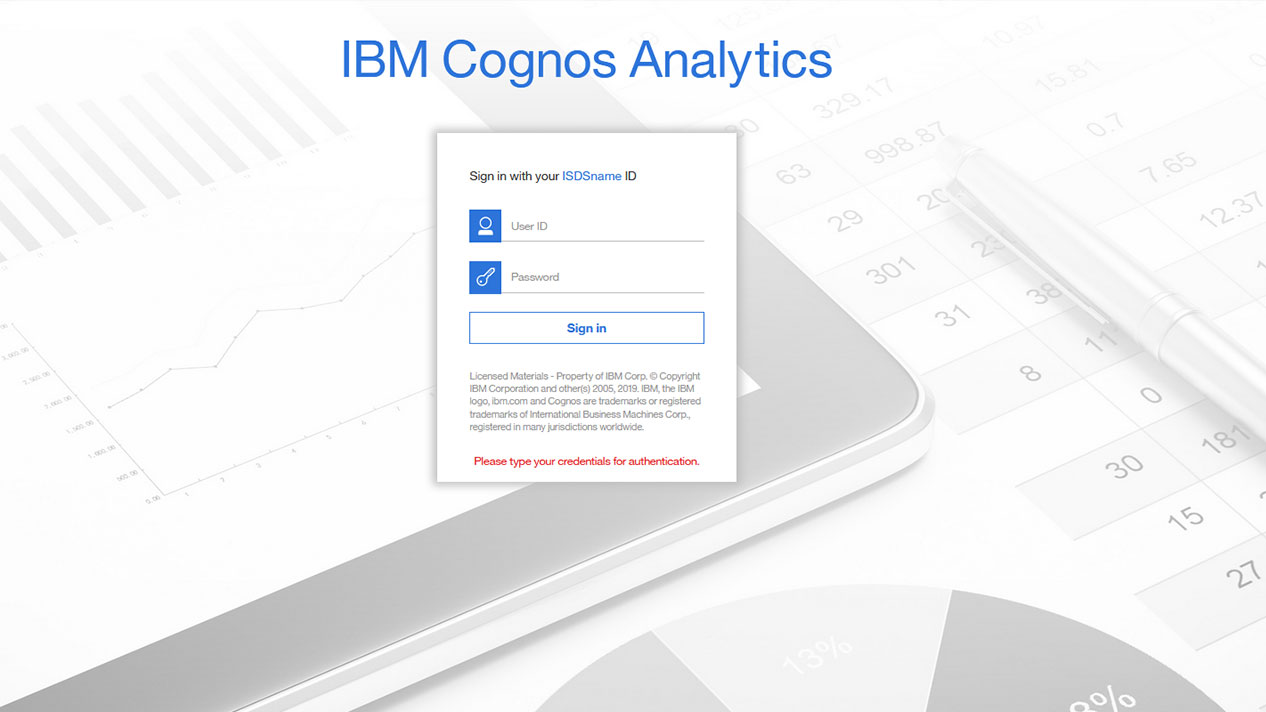 Over time these shortcomings added up. Our client kept trying to improve their homegrown web application, but no matter what they did their application just did not satisfy all of the needs of their business users. Ultimately, every level of their organization realized their existing web application just wasn't working.
Their technology teams got tired of answering the same questions and resolving the same complaints about the application, over and over
Their business users wanted a single, powerful, and multi-use solution that could solve their problems through a clear, user-friendly interface
Their business leaders wanted more opportunities to perform deeper analysis, in less time, to deliver greater value from their data.
In sum: It was time for a new — and true — BI solution. That's when they contacted IBA.
Moving to IBM Cognos: How IBA Helped Make the Migration a Success
Our client knew they wanted to migrate to IBM Cognos, but they knew they couldn't do it alone. Migrating from an old reporting system to a new BI solution was a massive project for an enterprise of their size. Here's how we helped.
First, we built a new model for their BI solution. We configured all of the relationships between tables and access levels. We gave them a complete system for access rights, so they can now easily define which of their users can access which of their reports, instances, and data. If a user wants to see additional content, all they have to do is request permission from their system administrators or developers.
Second, we migrated over 50 reports from their old web application to IBM Cognos, and improved their reporting functionality as a whole. We mapped each report's visual style to corporate identity and design guidelines. We added graphical elements so users could visualize numbers in charts. And we added new interactive features, convenient filters, and new search functionality to all of their reports.
Finally, we trained their teams in their new system. At the start of the project, we held a demo meeting with their users and showed them what features Cognos gave them and how to use those features. We also wrote a manual for our client's users. This manual included a full description of the application, and the details on each report (including what it's about, what data it contains, and what the data all means).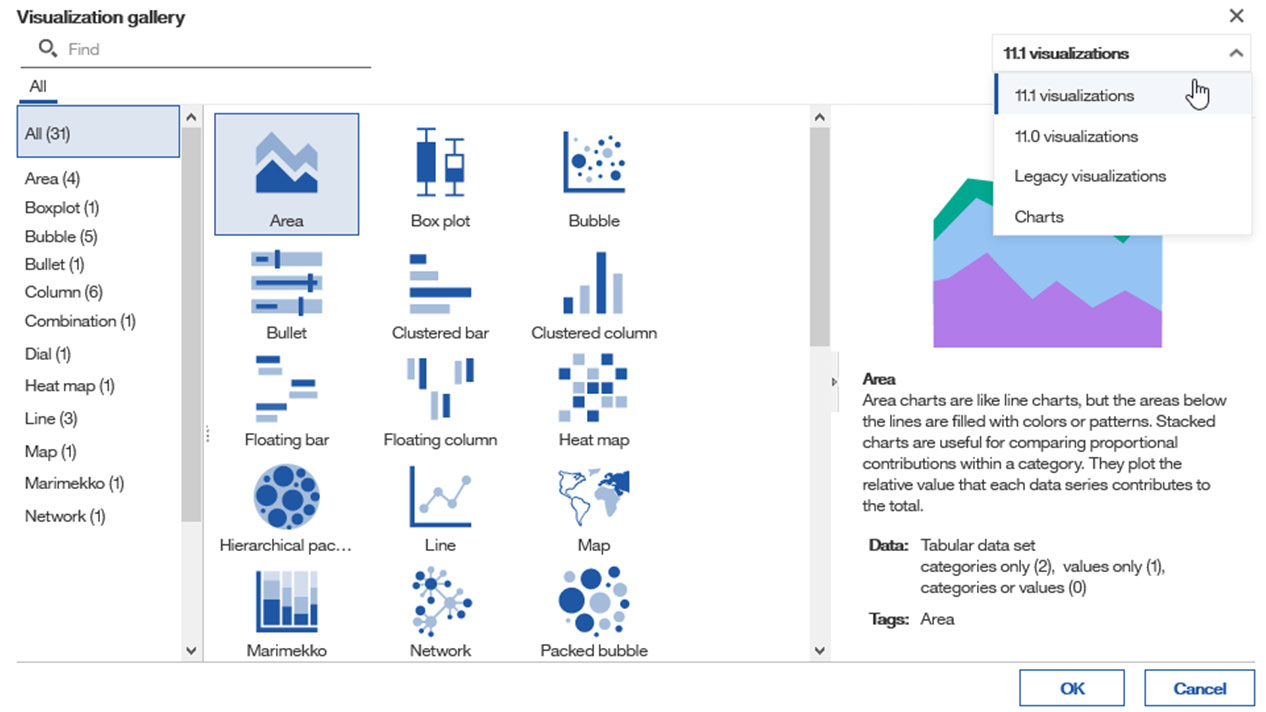 At this point our client had a functional implementation of Cognos, and their users knew how to work with it. From there, we began to provide ongoing support. We continue to write new reports. We continue to add new tables and elements from the database. We continue to add new requested functionality. And we continue to regularly update the manual that we wrote for our client and their end users.
Within a short, initial implementation project and light ongoing support, we have moved our client away from their basic web application and onto a full-featured BI solution — fast, simple, and easy.
Using IBM Cognos: What's Changed in Our Client's Day-to-Day Life
By working with IBA and implementing IBM Cognos, our client has corrected the problems they experienced with their initial "BI" web application and generated a wide range of benefits. These include:
Users are creating better reports, faster and more efficiently. They can now quickly and easily generate the views they need, analyze their data, and perform timely audits by filtering and interacting with their reports
Users are more self-sufficient: They can complete many BI tasks on their own, and we update our client's user manual in real-time so they can always just click a link to better understand their data and the reports that they run
More developers can work on the project. Two developers now work on the project, which lets them complete tasks faster, constantly progress their work, and regularly generate new and interesting solutions to improve productivity
The solution receives a lot more support. The development team now has the bandwidth — and application support from IBM and IBA — to address user questions and requests as soon as possible.
Our client's users, developers, and leaders have all praised Cognos' performance, and they have improved many organization-wide outcomes.
Their technology teams are running a flexible, extensible, and efficient platform that they quickly troubleshoot and expand
Their users have a simpler — but more powerful — solution that makes it easy to produce executive-ready reports and data analysis
Their business leaders are creating a faster, deeper, and more efficient data analytics practice and deriving more value from more of their data.
In sum: Our client has gained a true BI solution that solves their most pressing problems and can grow with them as their analytics needs expand and evolve.
Get the Most Out of Your Data with IBM Cognos and IBA
We used IBM Cognos to upgrade our client's legacy data platform, and we know Cognos — and other modern BI solutions — can deliver big benefits to your analytics platform too.
At IBA we have full teams of talented, experienced BI developers, including multiple certified IBM Cognos specialists. We would be happy to help you strategize your new BI solution stack, to help you implement a powerful BI solution, to support that solution, and to simply share our field-tested best practices on how to improve your analytics function as a whole.
To see if there's a good fit between IBM Cognos, IBA, and your company, then just reach out today and schedule a free, no-obligation consultation.
Leave your comments or questions here