IBA Group Participates in BankIT.KZ
On September 8, 2011, the first conference in banking IT entitled BankIT.KZ was held in Almaty, Republic of Kazakhstan. The event was organized by the National Bank of Kazakhstan, National Bank of Belarus, Association of Belarusian Banks, and the Scientific and Technological Association Infopark. IBA Group's development centers in Belarus and Kazakhstan, namely IBA Minsk and IBA Kz, represented the company at BankIT.KZ.
Before the opening of BankIT.KZ, a press conference was held with journalists from nine editions and two TV channels in attendance. The following officials appeared before the audience:
Oleg Veremeichik, Head of the Central Department of Information Technologies of the National Bank of Belarus
Sergei Molchanov, Director of the Department of Information Technologies of the National Bank of Kazakhstan
Vladimir Basko, Director General of the Scientific and Technological Association Infopark
Gennady Molchanov, Sales Director for CIS countries at IBA Minsk
Vladimir Sirotko, CEO of SoftClub Ltd.
Speaking about the importance of BankIT.KZ, Sergei Molchanov of IBA said: "This event will foster closer cooperation between Belarus and Kazakhstan in the creation of a single information space in the banking area. The dialogue that we begin in Almaty will continue in Minsk at BankIT'2011 to take place in November this year."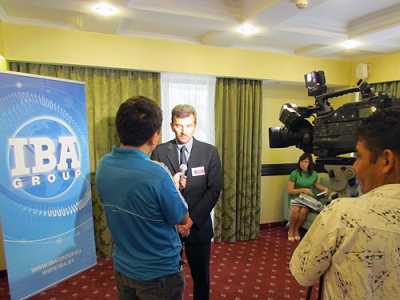 BankIT.KZ focused on the formation of a single financial space for the Customs Union of Belarus, Kazakhstan and Russia, and on the implementation of information technologies in the area of finance in Belarus and Kazakhstan. Belarusian and Kazakh bankers met with IT experts to share experience and discuss possibilities for mutually beneficial cooperation.
IBA presented the following reports:
IBA Mobile and Internet Banking Solutions Based on IBM WebSphere Portal Server by Alexander Kovalev, Technical Director of E–Business Division
Organization of Service Desk and Operation Management Processes in Banks According to ITIL V3 Using IBM Tivoli by Dmitry Trubach, Department Head
Automation of Managerial Accounting in a Commercial Bank by Yury Zhalnerkevich, Project Manager.
Molchanov reiterated the intention of IBA Group to expand its business in Kazakhstan, saying: "We see many ways and possibilities for cooperation with banking institutions of Kazakhstan. In 2010, IBA Group opened a representative office in Kazakhstan, and in July of this year a development center. We want to be closer to Kazakh customers, to know better their needs, and to be able to provide the best possible services. We are ready to bring to Kazakh banks the positive experience that IBA accumulated during nearly two decades of successful implementation of international projects."
Following the conference, IBA conducted talks with and made presentations for prospective Kazakh clients.