In September 2011, IBA Group opened a new IT laboratory at the Faculty of the Information Technology and Control of the Belarusian State University of Informatics and Radioelectronics (BSUIR) located in Minsk, Belarus. On November 29, IBA participated in the opening ceremony of the new laboratory.
The new IT laboratory created by IBA Group is equipped with 16 up–to–date workplaces and 8 additional workplaces for seminars and roundtable discussions. A server, two more computers, a multifunction device, a printer, and a scanner are located in a separate room intended for teachers and engineers. In addition, Wi–Fi access is available.
The Academic Center of IBM Competences that functions in the IBA — BSUIR IT Laboratory plans to expand its activity using the new IT lab created by IBA.
Sergei Levteev, IBA CEO; Mikhail Batura, BSUIR Rector; and representatives of BSUIR, High–Tech Park, and Belarusian mass media participated in the opening ceremony.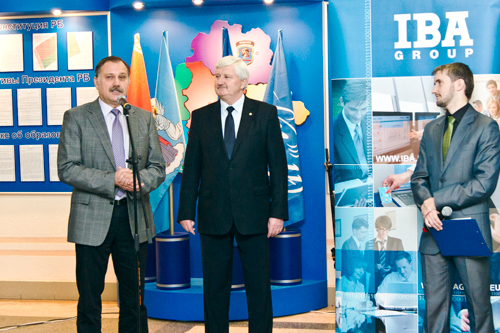 Batura comments: "Creation of research and production laboratories enables the BSUIR students to improve the quality of their knowledge and to obtain practical experience in particular. They will be able to meet specific challenges that our partners, including IBA Group, meet today. Over a period of five years that BSUIR has been cooperating with the business community, 28 joint laboratories were opened at different faculties of the university."
Levteev says: "Indeed, it has become a good tradition to open training laboratories and centers of competences. That means that what we do is important for success of educational process and of international projects implemented by IT companies. The quality of knowledge of the BSUIR graduates has always been high. Today it is significant not only to sustain but to boost the education level to the leading–edge margins. That's what we're doing together."
The event completed with the ceremonies of cutting the ribbon and presenting the golden key to the best students of the faculty.