IBA Chancellor Day in Belarus
On October 29, IBA in cooperation with IBM Eastern Europe/Asia (IBM EE/A) and Netkom, an IBM distributor in the CIS countries, conducted the workshop Chancellor Day in Minsk, Belarus.
The workshop gathered roughly 120 representatives of 76 organizations, including local banks, scientific and research institutions, production enterprises, and government bodies.
Sergei Levteev, IBA Group President; Sergei Tabulin, IBM EE/A Sales Director; and Aleksey Sakharov, Head of Netkom Marketing and Sales Support Department, addressed the participants.
Mr. Levteev thanked the participants for their interest in IBA and congratulated the conferees with the 5th anniversary of the IBA's Chancellor first release. Levteev said: "The system of electronic document management Chancellor is an absolute leader at the Belarusian market of EDM systems thanks to the support of our vendors and partners". Levteev wished productive work to all the participants and added that the events where professional exchange of views between IT providers and their customers is possible, promotes the understanding of real needs of the IT market, and increases the level of IT penetration and IT development in Belarus.
In his speech, Mr. Tabulin drew attention of the conferees to the IBM's centenary in 2011 and mentioned that during that century IBM established itself as a leader in the area of innovations thanks to strategic partnerships with reliable high–tech companies including IBA.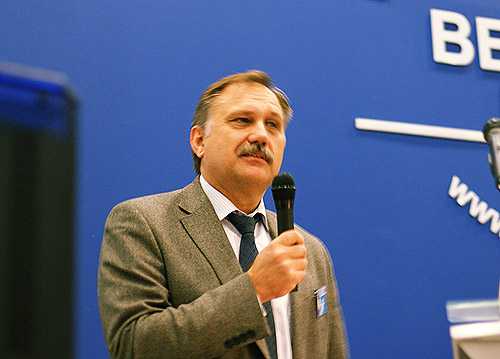 After the opening ceremony, the participants delivered the following presentations:
IBM Lotus. A platform for effective collaborative work in companies of any size.
Effective workflow management, new solutions and management approach to implementation of EDM systems. Chancellor, Mini Chancellor, Chancellor Express.
Creation of a host system for corporate document repository and management based on IBM FileNet.
Implementation of IBM FileNet–based systems: case studies.
In addition, IBA customers provided case studies on electronic document interchange:
Belarusian Railway. Corporate system of electronic document management: project story, results, and perspectives.
Administration of the President of the Republic of Belarus. Corporate system of electronic document workflow.
General Prosecutor's Office of the Republic of Belarus. Creation of unified information system and its future development.
Closing the event, Sergei Akoulich, IBA Business Development Director, commented: "I can characterize the Chancellor Day in two terms: innovation and responsible professionalism. Five years ago, IBA introduced its Chancellor based on IBM Lotus Domino/Notes to Belarusian audience. Chancellor was considered an innovative solution then. Today, we hold 60 percent of the Belarusian market of workflow automation and these technologies have become customary. That could happen only thanks to the professional approach of those who are responsible for promotion, implementation, and maintenance of the EDM systems.
I wish all of us the effective implementation of modern, qualitative, and reliable IT solutions that will enhance our possibilities, meet our requirements, and help our companies solve their business problems successfully."
At the event, IBA carried out promotional actions, quizzes, and plays for prizes. JSC Peleng became the winner of the questionnaire lottery and received a free certificate for use and technical support of Chancellor Express.