IBA Group Sponsors DOCFLOW 2011 Moscow
On May 18, IBA Group participated in DOCFLOW 2011 Moscow as the event's sponsor. Supported by the Ministry of Telecommunications and Mass Communications of the Russian Federation, the event was held in Moscow, Russia.
More than 70 international software developers, hardware producers, and system integrators including Canon, Fujitsu, IBM, Microsoft, and Oracle participated in the exhibition.
Igor Shchegolev, Russian Minister of Telecommunications and Mass Communications, and Ilya Massuh, Russian Deputy Minister of Telecommunications and Mass Communications attended the event as its special guests.
At the IBA Group booth, Shchegolev inquired about the implementation and development of the interdepartmental system of electronic document management for public authorities and about new IBA products intended for business process automation and electronic document management. During the event, representatives of more than 40 companies received professional consultations from the IBA Group experts.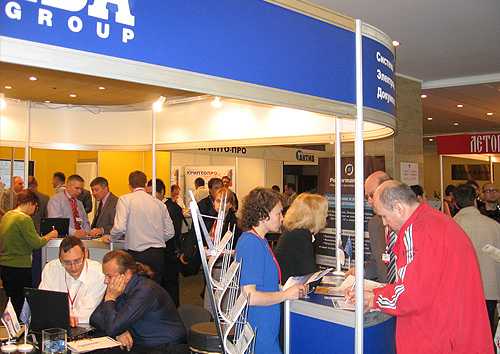 At its booth, IBA Group presented:
Chancellor EDM system, the IBA proprietary software product
Mini Chancellor, an economy–type Chancellor EDM system. A simple and easy–to–use solution for the SMB sector. Mini Chancellor is a light version of Chancellor with fewer functions to minimize costs and deployment time
Chancellor Express, a software product that combinesfull–scale versions of IBM Lotus Domino/Notes and Chancellor. Chancellor Express is a functionally and cost optimized solution
IBM FileNet–based ECM and BPM solutions intended for creation and deployment of applications to manage content and business processes:
– Credit pipeline to automate disbursement and servicing of loans to individuals, to regulate and to speed up document preparation process, and to control business processes
– The system of technological connection management (STCM) to automate the process of technological connection (TC) of companies and organizations to power networks.
At the conference, IBA spoke about effective workflow management, possible integration of Chancellor with other IBM products including FileNet, Symphony, and Lotus Sametime Connect, development of applications for mobile devices and tablet PCs based on iPad, iOS, and Android, and illustrated its presentation with case studies of successful projects.