IBA Group Participates in Gartner Outsourcing & IT Services Summit
More than 630 delegates from about 33 countries attended the Gartner Outsourcing & IT Services Summit held on September 20–21, 2010 in London, UK. The summit became a venue for providers who showcased their outsourcing services and for vendors that wanted to learn more about outsourcing strategies and practices, and eventually find outsourcing partners.
The Summit agenda included an exhibition and numerous presentations, workshops, panel discussions, one–on–one meetings with Gartner analysts, and networking events.
The joint team of Eastern European companies hosted a networking reception, and held a roundtable discussion on the strengths of the Eastern European region as an IT outsourcing destination.
IBA Group sought to learn more from Gartner about the latest market trends and outsourcing strategies, communicate the benefits of Eastern Europe to the summit audience, and make contacts with prospective clients.
In the Gartner's keynote presentation entitled European Outsourcing and Services Scenario: Surfing the Next Economic Wave, Claudio Da Rold and Ian Marriott spoke about the difficult economic recovery of the European market: "Moving from 2009 and 2010 into the next decade, European businesses feel a significant amount of incertitude regarding the continental economy future. Business growth doesn't appear to be located in Western Europe, while BRICs [Brazil, India, China] and emerging economies — e.g., mostly other continents — seem to face a long term growth expectation."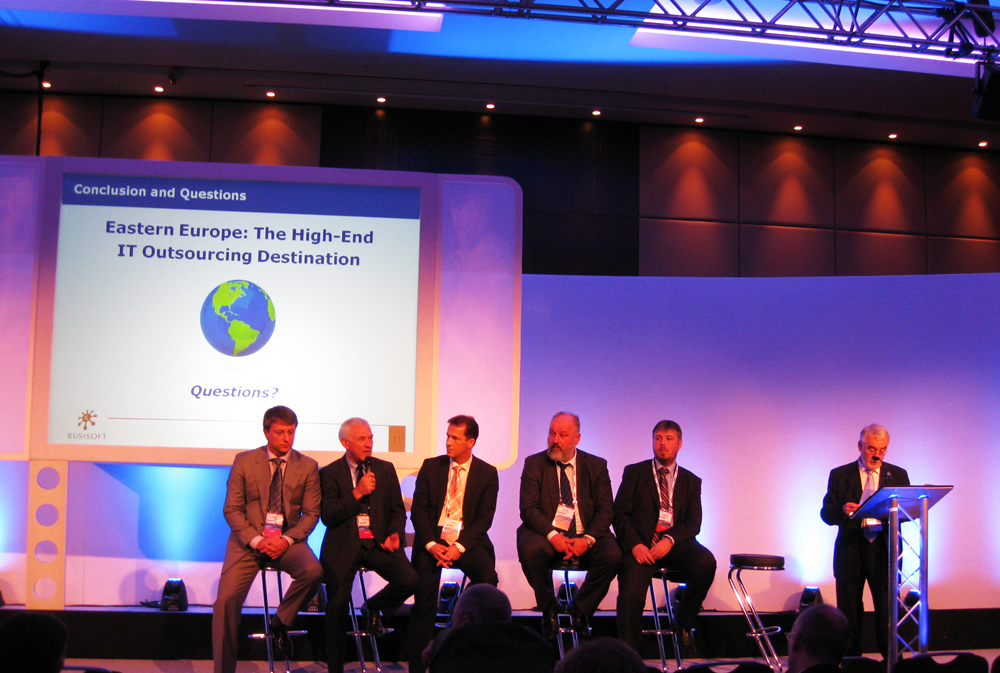 According to Gartner, the IT market shows a shift from one–to–one to one–to–many industrialized delivery of services. Gartner predicts that "by 2015 industrialized services will represent more than 30% of the IT Services market. Gartner Forecast of public cloud services alone is expected to be a 148.8 B$ by 2014."
As for the competitive advantages of Eastern Europe as an ITO destination, its excellent educational system, the strong mathematical background, engineering mentality and the ability to focus on high–complexity projects of IT professionals, cultural fit and geographic proximity to Western Europe, and competitive costs were highlighted at the roundtable discussion Eastern Europe: The High–End Outsourcing Destination.
Dr. Valentin Kazan, Vice President of IBA Group and the head of the IBA's delegation at the Summit, said: "We came here with the idea to show that Eastern Europe is the right destination for outsourcing projects to be fulfilled. The region is one of the most promising alternatives to traditional IT outsourcing destinations. IT companies in Eastern Europe have accumulated extensive experience in outsourcing. They have highly qualified IT resources, a well–developed education system, and a favourable geographic location — very close to Western European clients."
Follow our news to see Dr. Kazan's interview to Mark Kobayashi–Hillary, a writer and blogger based in London, and to read his interview to Outsource Magazine at the Gartner Outsourcing & IT Services Summit.