IBA Group Implements TapXphone for the Largest Bank in Moldova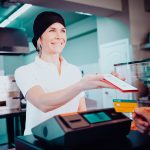 IBA Group launched tapXphone for maib Bank, the largest financial institution in Moldova. TapXphone is an IBA Group's contactless payment solution certified by Visa. The solution served as a basis for the maib SmartPOS mobile application turning an Android smartphone or tablet with the NFC feature into a full-fledged POS terminal.
As a result, the bank's customers can accept contactless payments using their smartphones. To do that, a bank customer needs to download the application.
Using tapXphone, entrepreneurs from Moldova can quickly and safely accept payments from customers who pay for goods and services with a contactless card, phone, smartwatch, fitness bracelet, or other devices with NFC module support.
Vadim Smotryaev
Product Owner at IBA Group
We are pleased to launch our payment solution in Bulgaria and Serbia. TapXphone takes contactless payments to a new level. Now sellers do not need to buy and maintain a bank terminal. A smartphone with an installed app will cope with this feature. Buyers, in turn, can quickly and easily pay for goods and services in one touch.
Maib SmartPOS is an alternative to classic POS terminals, especially for entrepreneurs who need mobility and flexibility, including courier services, hairdressers, small businesses, and retail shops.
Giorgi Shagidze
CEO of maib
We continue to diversify and create new standards of customer experience by implementing the most innovative digital products and services. Maib SmartPOS adds value to the business sector in the Republic of Moldova, but also to the buyers, who will pay by a contactless bank card with a single touch on a smartphone. By launching this service, we are moving to the next level of digital payments.
Oleksandr Stelmakh
Senior Director, Digital Solutions, Visa CISSEE
We see great potential in implementing the Visa Tap to Phone technology for Moldovan consumers. Since it doesn't require additional hardware, small and micro businesses will greatly benefit by expanding the network of contactless payments and minimizing the costs of acquiring services. Moreover, consumers will get a smoother experience, paying for their purchases quickly, safely, and conveniently, even where it was previously impossible.
About maib
Maib is the largest bank in Moldova, accounting for 31.1% of the country's banking assets and 34.2% of loans. Maib provides for 25.3% of mortgage loans issued in the Republic of Moldova. The bank serves more than 35% of the population and is one of the largest employers in the country. Maib is well capitalized, with the capital concentration ratio of the first level being 19.9% as of September 30, 2021.
About tapXphone
This is the second implementation of tapXphone in Moldova. In 2021, IBA Group launched a contactless payment solution on transport in Chisinau. IBA Group implemented this pilot project in Moldova in cooperation with Visa, Victoriabank, the Chisinau Municipal Council, and local carriers.
To date, the tapXphone geography includes Ukraine, Kazakhstan, Moldova, Slovakia, Latvia, Lithuania, and Estonia. By the end of the year, IBA Group intends to deploy tapXphone in a number of European countries.