IBA Group Showcases Visual Flow at Data Innovation Summit 2023
IBA Group took part in the Data Innovation Summit 2023, held on May 11-12 in Stockholm. The summit served as a gathering ground for over 3,000 data experts, developers, influencers, and decision-makers from across the globe, providing a platform to highlight data and AI-driven innovative technologies and solutions.
Among the summit participants, IBA Group showcased their cutting-edge open-source ETL (Extract, Transform, Load) solution, Visual Flow. The team took the opportunity to demonstrate the power and versatility of Visual Flow, capturing the interest of attendees. Visual Flow attracted considerable attention during the event, thanks to its exceptional user interface and comprehensive functionality.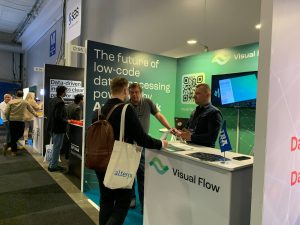 In addition to Visual Flow, IBA Group exhibited a wide range of services aimed at enhancing data-driven decision-making and business intelligence, including Data Management Solutions to Cloud Migration Service, Visual Flow Development, Penetration Testing, and DevSecOps services. This comprehensive suite of offerings reinforces IBA Group's position as an industry leader in IT solutions.
At the summit, the IBA Group team took the stage in two engaging Technology in Practice sessions. They demonstrated the Graphical User Interface and core features of the Visual Flow solution, and elaborated on the value it brings to businesses. These sessions provided attendees with valuable insights into Visual Flow's capabilities and potential applications.
IBA Group's booth attracted a significant number of visitors and participants, particularly from the Nordic countries and Central and Eastern Europe. Professionals from various industries sought to learn more about IBA Group's data management expertise, eager to leverage the power of efficient data processing and analytics in their own organizations.
Participating in the Data Innovation Summit 2023 allowed IBA Group to showcase their commitment to driving advancements in data management. With Visual Flow paving the way for efficient data management, IBA Group remains dedicated to empowering businesses with powerful solutions that drive success.
About Visual Flow
Visual Flow, developed by IBA Group, is an innovative open-source ETL (Extract, Transform, Load) solution that simplifies complex data workflows. With its low-code approach and intuitive drag-and-drop interface, Visual Flow enables businesses to streamline their data management processes effortlessly. Leveraging technologies such as Apache Spark, Kubernetes, and Argo Workflows, Visual Flow ensures high-performance data processing and analysis without extensive coding. It offers a versatile stage palette for data transformation, supports on-premise and cloud deployments, and delivers unlimited scalability to handle large datasets. Visual Flow empowers organizations to optimize their data operations with ease and efficiency. For more information, please visit Visual Flow website at https://visual-flow.com.