ICFM Recognizes IBA as Best Employer
On November 17, IBA received an award of the Institute of Certified Financial Managers (ICFM) in the category The Best Employer of the Year. The awarding ceremony was organized within an annual ICFM conference that was held from November 17 to November 18, 2011 in London.
The conference aimed to honor the best financial managers qualified by ICFM, the best training centers that educate such managers, and the best employers, as well as to foster networking among financial practitioners and to provide information about the latest developments in the industry.
Representatives of Azerbaijan, Georgia, Kazakhstan, Ukraine, and international and national trade organizations; leading experts in accounting, taxation, and financial control; and heads of ICFM training centers and NGOs participated in the conference.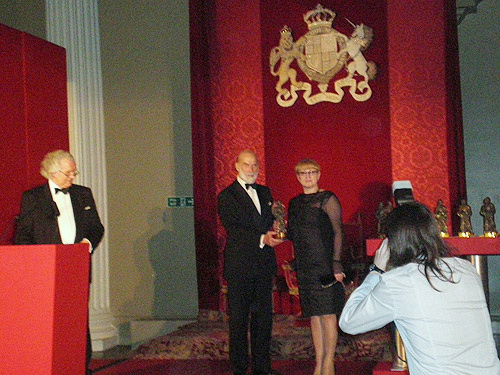 A gala dinner to honor the award winners was the central event of the conference. Held in the Banqueting House, one of the most beautiful banquet halls of London, it gathered more than 250 guests. His Royal Highness Prince Michael of Kent was the honorary guest of the award ceremony.
Prince Michael of Kent congratulated the winners in the category The Best Employer of the Year, including IBA and awarded them a diploma and a Luca Award, a bronze statuette of Luca Pacioli, the Cistercian monk who is credited with inventing the process of double entry bookkeeping. Taisa Lusikova, Chief Accountant at IBA and an ICFM alumna, received the award.
Other winners were UkrBusinessBank (Ukraine), Kazakhstan Temir Zholy (Kazakh Railway), and SOCAR Oil Company of Azerbaijan.
The program of the event also included the conference "ICFM — Eastern Europe" and a visit to the British Parliament, where Garry Carter, Chief Executive ICB/ICFM, and Lord Risby, Member of the British Parliament, appeared before the audience.