Tap to Pay on iPhone Contactless Payment Acceptance Launched in Ukraine
PrivatBank, Ukraine's largest state-owned bank, introduced contactless payments for Apple iPhone users.  This is the first implementation of the Tap to Pay on iPhone payment acceptance technology in Ukraine. As a result, entrepreneurs can utilize their iPhones to accept swift and secure payments. Ukraine is the third country Europe and the seventh in the world to enable iPhones to accept payments just like a regular POS terminal.
To be able to use their Apple smartphones as payment terminals, entrepreneurs need to install the Terminal application. The payment process is straightforward. A seller enters the payment amount into the app and a customer taps a bank card on the top of the smartphone.  After the transaction is completed, a payment receipt is sent to the customer via SMS or messenger. This service is compatible with iPhone XS and newer models.
Notably, this payment method is not limited to contactless bank cards. It also works with other NFC-enabled devices like smartphones, bracelets, key fobs, and rings.
PrivatBank says that this solution is secure and user-friendly, and caters to businesses of all sizes, from small street vendors to large retailers. It enables quick and convenient payments, fostering financial inclusion, scalability, and efficiency for businesses.
The service allows not only for acceptance of payments, but also for the recording of cash transactions, generation of fiscal receipts, and transmission of information to tax authorities.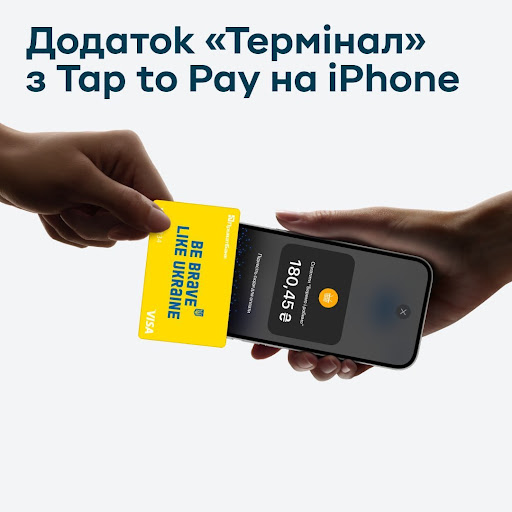 About PrivatBank
In 2021, PrivatBank, in collaboration with Visa, became one of the first in Ukraine to introduce mobile payments through smartphones running on Android. To activate the function, entrepreneurs need to download a relevant application from the Play Market, register, and provide their user data. Any NFC-enabled phone and tablet running Android 8.0 or higher can provide the payment service.
Founded in 1992, PrivatBank is the largest state-owned bank in Ukraine. It serves more than 19 million clients, both individuals and legal entities. Across the country, over 1,000 branches, 5,000 ATMs, and 10,000 self-service terminals of PrivatBank operate daily. In 2022, PrivatBank's share in the retail loan portfolio grew from 26% to 32% and the business received UAH 23.8 billion in new loans.