IBA Group Launches TapXphone for Rabitabank in Аzerbaijan
IBA Group launched its tapXphone contactless payment solution for Rabitabank in Azerbaijan. Now, the bank's clients can accept payments for goods and services using their smartphones, eliminating the need to invest in traditional POS terminals. Following IBA Group's successful implementation of the contactless payment service at Kapital Bank last year, the introduction of tapXphone at Rabitabank marks another milestone for IBA Group in bringing this innovative solution to Azerbaijan.
The tapXphone solution forms the foundation for Rabitabank's Mobil POS banking service, converting Android smartphones or tablets with NFC functionality into fully functional POS terminals.The Mobil POS service caters to small and medium-sized businesses that prioritize mobility and flexibility, including courier services, taxi fleets, mobile trade services, hair salons, and beauty parlors.
Watch the promo Mobile POS video at Rabitabank youtube channel (in Azerbaijani)
Businesses can activate the new service remotely without visiting a bank: they simply need to download the tapXphone app and Rabita Business internet banking application from the Play Market. Customers, in turn, can quickly and securely pay for goods and services with a contactless card, phone, smart watch, fitness bracelet, or other NFC-enabled device. This payment acceptance option serves as an excellent alternative to traditional POS terminals, which can be more expensive and require regular maintenance.
Both sellers and buyers can have complete confidence in the security of their funds as tapXphone obtained certification from the PCI Security Standards Council (PCI SSC).
Vadim Smotryaev
Product Owner at IBA Group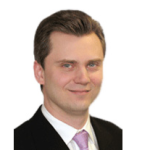 We are pleased to make our application available to customers of Rabitabank. We are committed to developing the ecosystem of contactless payments in Azerbaijan and hope that Rabitabank's clients will choose tapXphone for accepting payments.
About Rabitabank
Rabitabank, established in 1993, is one of the largest banks in Azerbaijan. The bank caters to clients from diverse sectors such as trade, manufacturing, construction, agriculture, transportation, and communications. With a presence of 27 service points and 74 ATMs spread across 16 regions of Azerbaijan and Baku, Rabitabank offers a comprehensive range of financial services to both individuals and businesses. To further enhance customer convenience, the bank provides various digital solutions including the Rabita Mobile app, an internet banking platform, the Rabitabot chatbot, and a dedicated call center.
The collaboration between IBA Group and Rabitabank represents a significant milestone in advancing contactless payment solutions in Azerbaijan. With tapXphone expanding its presence, this partnership aims to empower businesses and customers by offering secure, convenient payment experiences and driving the adoption of innovative digital solutions in the banking sector.
Read more about the tapXphone solution to learn how your business and your customers can start using a smartphone to accept contactless payments anywhere and anytime.