IBA Group Participates in Poland & CEE Retail Summit 2023
IBA Group participated in the Poland & CEE Retail Summit 2023 in March this year. As one of the largest events dedicated to retail in Central and Eastern Europe, the conference boasted over 1800 attendees and 180 speakers, including retail professionals and key international FMCG manufacturers. The topics discussed during the Poland & CEE Retail Summit 2023 ranged from growth strategies, supply chains, and e-commerce to implementation, marketing, and finance of IT solutions.
During the conference, IBA Group showcased Goods Checker, a SaaS solution for AI-powered analysis of the goods display on store shelves. Utilizing computer vision, Goods Checker analyzes products on store shelves, compares them with planograms, and generates real time, detailed product analytics. This innovative solution automates all stages of merchandising, benefiting FMCG manufacturers, distributors, and retailers.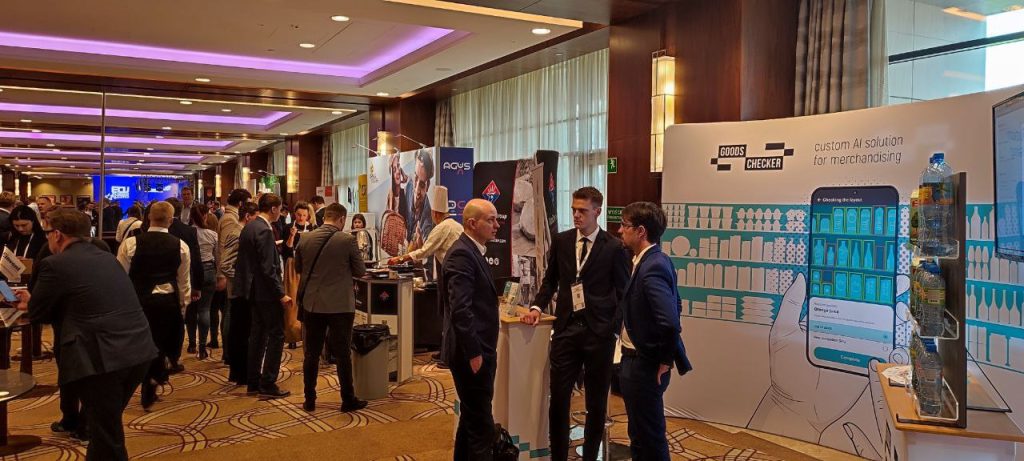 IBA Group joined the conference as collaborative partners, engaging with attendees to discuss the topic of merchandising automation. They shared insights on the pros and cons of automation technologies, highlighted challenges faced by companies, and demonstrated the impressive functionality of the Goods Checker solution, including its quick implementation timeline, with pilot projects possible within 2-3 weeks using just one render for neural network training.
Several companies already using similar solutions expressed interest in Goods Checker, specifically in the module for SKU and price recognition on shelves, as well as the model training for recognition based on just one render.
Tomasz Gołębiewski
Business Development Manager at IBA Poland
Aliaksei Sutsko
Goods Checker Product Development Manager
This year, we participated in the Poland & CEE Retail Summit for the first time and can already see a great interest of the audience in our Goods Checker. I hope this will serve as a good start for the future.
Many retailers and manufacturers who have worked with similar solutions were pleasantly surprised: Goods Checker performs excellently in recognizing small-sized SKUs and bottles, as well as in successful identification of products in refrigerated cases.
Visitors to the IBA Group's booth also expressed interest in the technical features of Goods Checker, including GDPR compliance, the use of third party cloud services, data volume requirements for training, and recognition of small products.
The event underscored the relevance of merchandising automation for retailers and FMCG companies, demonstrating how automation can optimize business processes through product recognition, price analysis, planogram creation, and compliance checking.