IBA Group's tapXphone Launched in Latvia
IBA Group implemented the tapXphone payment solution for the Latvian bank Citadele and the French payment company Worldline. The bank's clients are the first in the Baltic States to use their smartphone or tablet to receive contactless payments. TapXphone is an IBA Group's contactless payment solution certified by Visa.
The tapXphone payment solution became the basis of the Citadele Phone POS mobile application. The Citadele Phone POS does not have a rental or subscription fee, making it a useful choice for merchants and service providers. The registration takes place online, which is especially important during the COVID-19 pandemic. Users can download the application from Google Play Store and sign a contract using an electronic signature. After that, the system is ready to accept payments.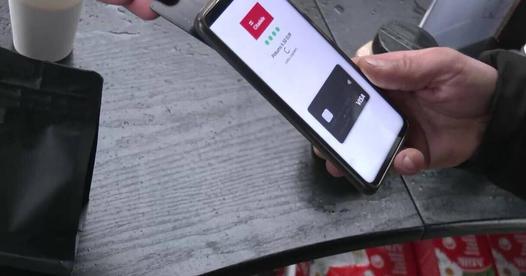 This solution meets all the security requirements of international payment systems and the Payment Card Industry (PCI). The tapXphone application uses the PIN-on-Glass technology, which allows users to accept transactions of large amounts. During each transaction, the numbers for entering the PIN code are displayed in a different sequence, which excludes the possibility of reading the information. Thus, tapXphone is as secure as a traditional bank terminal.
Vladislav Mironov
Citadele Board Member
Zanda Brīvule-Jansone
Head of Nordic and Baltic region at Worldline Global
Vadim Smotryaev
Product Owner at IBA Group
The Citadele Phone POS will be a great and useful innovation for entrepreneurs, but customers will also be surprised, as this is the first solution of its kind introduced by the bank in the Baltics. Despite its newness, we are confident that a POS terminal on a smartphone will soon become a commonplace, alongside contactless payment cards and payments by phone.
Without a shadow of a doubt, I can assure you that the new Citadele POS Phone solution is a unique innovation not only within Baltic countries but at the European level as well. The solution will be available to more than 200,000 small size individual entrepreneurs in all 3 Baltic countries.
Using a smartphone as a terminal opens up new opportunities for Citadele Bank customers. Now they need only a smartphone with an installed application to accept payments. I hope that the Baltic States residents will highly appreciate this new payment solution, which can be used almost immediately.
Using an ordinary smartphone as a terminal allows bank clients to open new niches for payments with bank cards, including festivals, outdoor events, and delivery services.
By using a smartphone as a payment terminal, entrepreneurs and small companies save money on the purchase and maintenance of expensive equipment.
The first tapXphone payment solution went live in 2019 in Ukraine. Today the solution operates in Kazakhstan, Ukraine, Moldova, and Slovakia. In the near future, IBA Group intends to deploy tapXphone in the countries of Central and Western Europe and Asia.