IBA Kz Grand Opening Held in Astana, Kazakhstan
On November 12, a grand opening of IBA Group's representative office in Kazakhstan was held in Soluxe Hotel (Beijing Palace), Astana. IBA Kz was legally registered in July 2010.
Sergei Levteev, IBA Group President, addressed the participants of the ceremony with a welcoming speech. Mr. Ross A. Mauri, Vice President, Enterprise Process Transformation, IBM USA; Ms. Inna Kuznetsova, Vice President, Marketing and Sales Enablement Systems Software, STG, IBM USA; Mr. Mikhail Seregin, Country General Manager of IBM in the Commonwealth of Independent States (CIS); IBM representatives in Kazakhstan; and other officials attended the event. Mr. Askar Rakhimzhanov, Deputy Chief of Astana Mayor's Office, congratulated IBA executives and participants in the ceremony, wishing them successful, effective, and prosperous business.
In addition, top managers of Kazakh leading companies and representatives of Kazakh ministries participated in the IBA Kz grand opening. Mr. Alexander Asanov, IBA Kz Director, appeared before the audience with an answering speech.
At the IBA Kz birthday party, the guests and hosts exchanged gifts and enjoyed informal socializing.
Kazakhstan and other countries of Central Asia are a priority destination for IBA Group because it is one of the most dynamic markets of the CIS. According to the Ministry of Industry and New Technologies of Kazakhstan, the Kazakh IT market is expected to grow by 27 percent annually, with the total sales increasing from 14 billion tenghe (approx. 95 million US dollars) in 2009 to 58 billion tenghe (approx. 393 million US dollars) in 2014.
Since 1996, IBA has been implementing a number of large–scale automation projects for Turkmen and Uzbek Railways. IBA boasts its successful cooperation with government bodies and private companies of the region, including the Ministry of State Revenues of Kazakhstan, Atyrausky Oil Refinery, and Uzbek Gold Concern.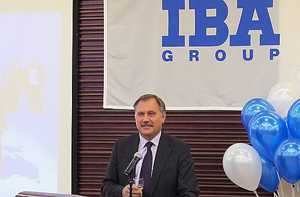 In June 2010, IBA Group won a tender for a solution to modify the electronic workflow system (EWS) of the state governing bodies of Kazakhstan.
In October 2010, IBA Group installed its proprietary electronic document management (EDM) system Chancellor at the IBM Center of Innovation for Linux and Open Standards in Astana, Kazakhstan, within the IBM's program for the support of its leading business partners.
Opening its representative office in Kazakhstan, IBA plans to promote its products and solutions at the Kazakh market.
Sergei Levteev, IBA Group President, commented: "Today the needs of the Kazakh government bodies, enterprises, companies, and educational institutions in information technologies are extremely huge. In addition, the country's IT market has been growing dramatically. IBA Group has a vast talent pool and sound experience in the development, implementation, and maintenance of the most advanced IT solutions in the US, Western Europe, and the CIS. Today, we are ready to offer our Kazakh customers not only integrated automated systems based on the products of world IT leaders including IBM, SAP, and Oracle, but also IBA's proprietary products, namely Chancellor workflow management system, automated software and hardware systems for retail banking, and e–University online distant learning system. Each solution offered by IBA is a synergy of the best possible quality and a reasonable price. In Kazakhstan, IBA will use every effort to provide solid IT solutions and products to meet strict requirements of our most demanding customers."
Contact us in Kazakhstan