IBA Poland Shortlisted for CEE Business Services Awards 2023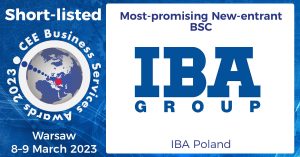 On January 16, the European Business Services Association published the shortlist of the Central and Eastern Europe (CEE) Business Services Awards. IBA Group in cooperation with IBA Poland submitted the new development center based in Wroclaw for the Awards and it was selected as a finalist in the category
Most Promising New Entrant Business Services Company (BSC)
Founded in 2021, IBA Poland provides software services, including enterprise solutions, mainframe support, SAP conversion, and cloud technologies. IBA Group opened the development center in Poland in the time of the global pandemic and economic downturn. However, the challenges accelerated digital transformation and increased demand for software development services. In the past two years, IBA Poland increased the number of employees to 400 people. Currently, IBA Poland provides services to international clients and has plans to start serving Poland-based businesses.
See CEE Business Services Awards Shortlist
About CEE Business Services Summit & Awards
The CEE Business Services Awards is an annual contest for organizations that provide business services in Central and Eastern Europe. The European Business Services Association launched the awards 11 years ago. IBA Group was shortlisted for a number of CEE Business Services Awards and became a winner in 2017 with the project Promotion of IT among People with Disabilities in the category Top CSR Initiative of the Year.
In 2023, 101 companies were included in the 28 categories of the CEE Business Services Awards shortlist. Winners will be announced at the CEE Business Services Summit & Awards to be held from March 8 to March 9 in Warsaw in person and online.
The Awards jury will cast the final vote one night before the CEE Business Services Summit & Awards. On March 8 and March 9, attendees of the CEE Business Services Summit & Awards will be able to cast their votes for individual Awards via a Brella platform. The Jury Vote will be weighted 2/3 and the Popular Vote 1/3. The Awards Auditors will compile all results to be unveiled at the Gala Awards ceremony.