IBA Group Holds Conference on Smart Transport Solutions in Kazakhstan
On March 30, the Smart Solutions for Public Transport conference took place in Almaty, Kazakhstan, bringing together over 70 specialists from the country's various cities. The event focused on the automation and digitalization of the public transport sector in Kazakhstan, with IBA Group as the organizer.
The conference gathered representatives of akimats (local government bodies), state regulators, transportation enterprises, and passenger transport management centers, attracting attention from researchers, banking sector representatives, and transportation IT solution integrators.
The speakers discussed global trends in the transportation industry, analyzed international cases, shared experiences on the implementation of public transport dispatching systems and electronic ticketing, and discussed the challenges and prospects for the development of the public transport sector in Kazakhstan.
Yevgeniy Seregin, Director of IBA Astana Dev, opened the conference. He highlighted the active digitalization of the public transport sector in Kazakhstan in recent years. Many major cities such as Almaty, Astana, and Shymkent are already using electronic ticketing systems, and the process is also gaining momentum in towns and settlements. Yevgeniy elaborated on the challenges faced by the transportation industry today and the prospects for its development in the coming years.
Ilya Audzeyenka, a manager for transportation solutions at IBA Group, spoke about the importance of using dispatching systems. He highlighted that dispatching of public transport evolved from simple tracking of vehicle location to encompassing a complex set of analytical data that increase the attractiveness of public transport for passengers and create a sustainable transportation ecosystem for regions and countries.
Stanislav Pridibaila, a project manager at IBA Group, emphasized the significance of having a proper passenger information system. He explained that carriers who do not prioritize this aspect might face problems that negatively affect the comfort, convenience, and overall service level and reputation of the company. Stanislav presented numerous studies conducted in different countries around the world as examples, confirming the importance of creating a proper passenger information system.
Yevgeniy Seregin
Director of IBA Astana Dev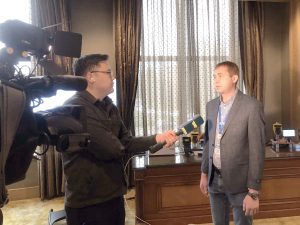 Kazakhstan is on the verge of a transformative shift towards digitalization in public transport, with some cities already initiating this process. We propose a transition to unified dispatch and passenger information systems, which will enhance the efficiency of the transportation system and reduce operational costs.
This approach will provide convenience for all stakeholders, including local authorities, carriers, and passengers. Moreover, automation opens up new possibilities, such as implementing card payment and virtual tickets for all types of routes. Many developed countries are already working in this direction, and Kazakhstan is undoubtedly among them.
IBA Group's Solutions for the Kazakh Transport Industry
IBA Group has been developing workflow management systems for transport and logistics companies for over 20 years. Last year, IBA Group's contactless fare payment solution for public transport was recognized as a finalist at the tenth Transport Ticketing Awards held in London.
Kazakhstan has always been one of the first countries where IBA Group tests its new technologies and solutions. In 2021, the company successfully completed a comprehensive transport project in Oskemen, Kazakhstan, leveraging its proprietary solutions, including the IBA AFC (Automated Fare Collection) system, which is certified by Visa, and the IBA AVM fleet management system.
As part of the Oskemen project, IBA Group also developed the Oskembus Mobile App, which provides real-time information to passengers about transport movement and displays traffic on the city map.
Another successful project implemented in partnership with Visa is the tapXphone payment solution for Kazpost, the national postal service provider in Kazakhstan. The tapXphone mobile application transforms a regular smartphone into a payment terminal, eliminating the need for additional hardware.
IBA Group is a certified partner of Visa within the Transit and Tap to Phone partner programs, with the IBA Fare Collection System, IBA Card Validator, and tapXphone solutions receiving Visa's seal of approval. This certification confirms that IBA Group's solutions meet Visa's global standards in terms of security and functionality.
IBA Group's Offices in Kazakhstan
IBA Group currently has two offices in Kazakhstan. The first office, IBA Kz, was established in 2010, and ten years later, in 2021, the company registered its second office, IBA Astana Dev, which became a resident of Astana Hub, the largest technology park in the country. IBA Group's main areas of focus in the region are solutions for the transport and logistics industries, as well as projects based on SAP technologies and products. The company's portfolio in Kazakhstan includes numerous successful projects for the country's largest enterprises, such as Kazakhstan Temir Zholy, Atyrau Oil Refinery, Kazpost, and KEGOC.