SAP Support
300+ professionals provide ITIL-aligned support of SAP systems that are compliant with customer's business requirements. Such an approach reduces the disruptions and provides insights into the relationship between users, configuration items, and incidents.
Organizations with older versions of SAP solutions may face issues with customer satisfaction.
TOP-3 reasons for low customer satisfaction:
slow incident handling,
a vague understanding of the relationship between users, configuration items, and incidents,
unclear expectations from business processes.
General tasks of the Common Service for User Support (CSUS) include:
Prompt responseto incoming requests;
Requests are directed to the support service;
Methodological consultations for key users;
Proactive monitoring of the system's basis;
Works on support and maintenance of the SAP system environments;
Solving rendering of Services problems;
Works under Requests for Change;
Consultation of users of maintained information systems.
Support model: two approaches
Earlier: escalation-based process
A typical support infrastructure is organized into three levels which will transfer tickets according to their complexity.
Today: collaboration-based process
Instead of escalating issues through various levels, a team is responsible for managing and resolving all tickets.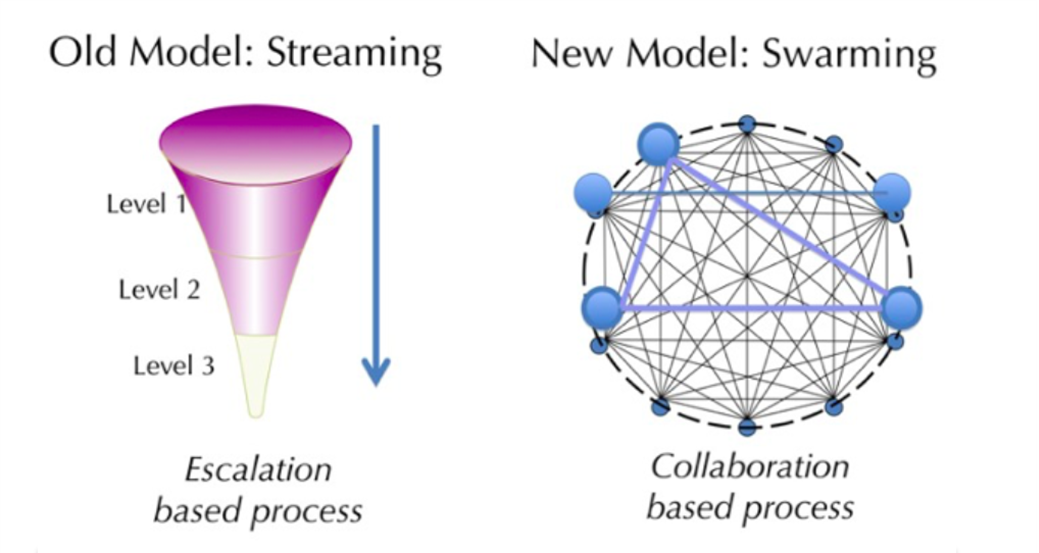 How we process incidents
Identification and Logging
Classification and Prioritization
Investigation and Diagnosis
Resolution and Recovery
Incident Closure
How to process change requests
Initiation: raising change request and assessment
Assessment: high-level design and estimation
Approval and prioritization
Implementation and unit testing
User acceptance: testing ad approval/rejection
Closure
Our Project Manager
Management of organizational and technical issues;
Solving operational issues of incident management;
Operational control of the process;
Responsibility for the work results;
Reporting on results;
Approval of Certificates of provided Services
Our Service Analyst
Interaction with the Customer's users and our professionals;
Receipt, registration, classification, and communication of the Customer's users support
Customer Representative
Solving organizational and operational issues on the customer's side
Composing requests for change and requests for training;
Approving Certificates of provided Services;
Signing technical documents: records, requirements, decisions, etc.
To provide clients with the best services and solutions, IBA Group has designed and implemented its Quality Management System that complies with international standards.
HOW WE DO IT
1
First contact
We analyze needs of your business, specify your expectations and solution requirements, and define processes that should be automated.
2
Requirement specification
We define main project challenges and risks and ways of handling them; discuss requirement specification details, estimate schedule and costs.
3
The Offer
We agree final project cost and cooperation terms. Sign the documents.
4
Consulting and prototyping
We provide consultation on technologies and products. We prototype automation solutions and offer services of our DevOps engineers.
5
Development and training
The development process is transparent. You receive progress reports on a regular basis. After project implementation, we educate your personnel to work with the new system.
6
Maintenance and support
We agree terms and costs of system maintenance and support.