Cloud Service for Manufacturers of Fast Moving Consumer Goods (FMCG)
A product for analyzing types of goods and SKUs on store shelves using neural networks and computer vision. A tool for comparing realograms against planograms.

PROBLEMS FACED BY FMCG COMPANIES
Manufacturers, distributors and retailers sell the same product groups on the same shelves. Market actors need prompt and reliable information about the actions of competitors and their own position against their background. Assessment is done manually by merchandisers, sales representatives, supervisors and marketers.
Analyze types of goods and SKUs on store shelves, compare realograms against planograms
Product display (realogram) is the actual layout of goods on retail shelves and store counters. Store owners and suppliers of goods agree on how and where the goods will be placed in the sales area. The goods are set out by store employees or merchandisers.
Analyze the performance of merchandisers and sales outlets
Merchandisers or store employees take photos of realograms and send them for review; the photos are manually analyzed by other people. This requires hiring, educating and training some personnel, organizing their work and monitoring the result. There is a lot of manual labor in this process affected by human-mistake factor.
Subjective assessment
Merchandisers send the wrong photos, fill out the questionnaires incorrectly, and provide reports late.
Marketers do not have time to process all the photos and reports.
A person makes decisions based on subjective assessment, which is also influenced by absent-mindedness, bad mood, fatigue, lack of time and even lack of professionalism.
Automation can reduce costs, mitigate risks and speed up the realogram assessment process.
HOW TO DEAL WITH A PROBLEM?
Automate part of the process and hand over routine operations to machines
Develop a SaaS solution for assessing realograms based on photos of shelves with goods.
Create a merchandiser tool to automate the process.
Create an analyst tool to generate reports.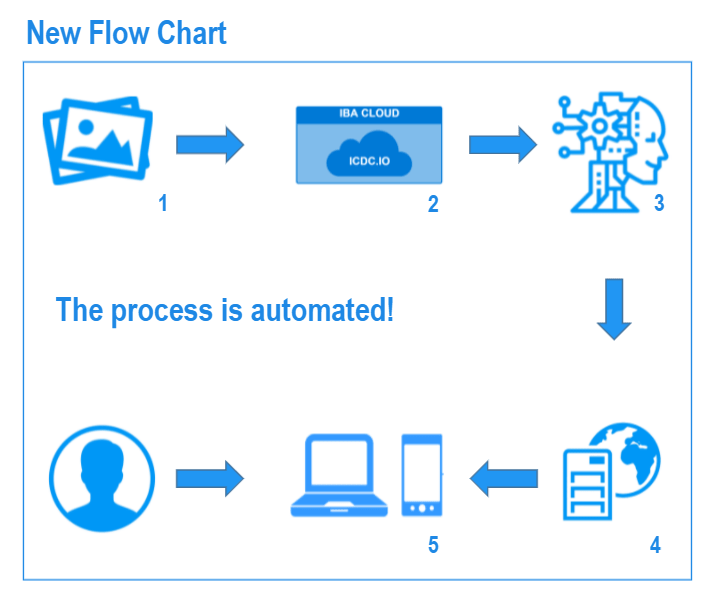 Procedure
Merchandisers, supervisors and other users take photos of SKUs layout on the shelves.
Photos are uploaded to the IBA Group data center.
AI-powered module Plano Checker analyzes the photos, searches for and classifies each SKU, then evaluates the layout according to a given scenario.
Goods Checker prepares data and generates reports on the server.
Users get access to reports and analytics through a web browser immediately after uploading a photo.
Challenge. Create an application for managing merchandisers, monitoring their operations, and analyzing the representation of goods in various retail chains.
Result. The supervisor obtains a tool for organizing the work of merchandisers, can monitor the execution of tasks and receive detailed reports.
Example. The merchandiser needs to check the availability of goods and the relevance of price tags in the right category. He shall upload a "before/after" photo, indicate the number of goods in a numeric field and put a checkmark if the price tags are relevant. If the task involves processing on the server (for example, using the Goods Checker application), the merchandiser can perform other tasks while processing is in progress.
How it works. In the app, routes are assigned to each merchandiser. The route consists of one or several sales outlets. For each outlet, the merchandiser must complete a list of tasks, which consist of one or several sub-tasks:
 Photo – attach one photo without analysis.
 Before/after photos – attach two photos without analysis.
 Goods Checker photo – Analyze photos with Goods Checker.
 Text – enter text in a text box.
 Select from the list – select the required value from the list.
 Numeric field – enter a number.
 Checkmark – check the box.
Quick Start. You get a solution from the cloud using the SaaS model. Support and updates are available, including a team of Data Science experts. Quick start means no need to buy hardware and administer a packaged solution. With business growth, we take responsibility for scaling your processes.
Timely Decision Making. A process without automation involves evaluating the events of the past weeks or months. Now you do not need to wait for the marketer to collect and process all the data in Excel. The system processes data and generates analytical reports for the needs of each manager. You can track surges in demand and actions of competitors 24/7.
Quality of Information. Automation leaves time to analyze the information obtained. Errors of manual labor are eliminated; commitment of process participants and quality increase, there is no subjective assessment.
Increased Sales. The purpose of merchandising is to increase sales using the correct layout of goods and SKUs. Without the help and control of merchandisers, you are not sure that the goods are placed on the shelves correctly. With Goods Checker, buyers pay attention to key items, put them in a basket and carry them to the cashier.